EDS – Embroidery Design Studio

EDS is a professional embroidery designing studio with many years of experience on European market. We create designs for many excellent companies from Poland, but also from Germany, Austria, Denmark, Sweden and the Netherlands. We make all kinds of embroidery designs: logos of companies and products, chiffons, large-format flags or artistic patterns. We provide our clients high-quality services and absolute punctuality of orders.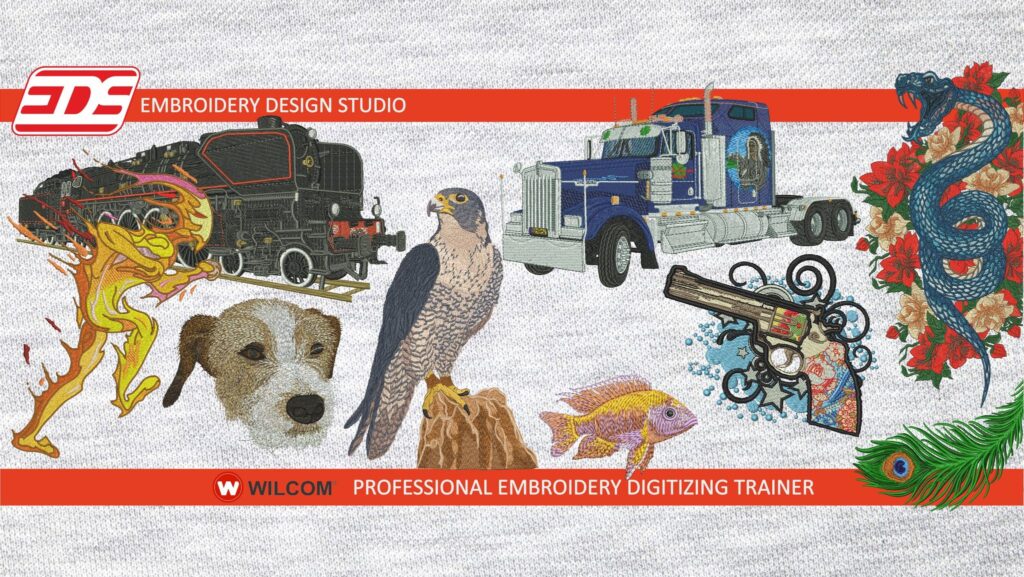 Professional Embroidery Digitizing Trainer – Andrzej Śniadek
I am a professional embroidery designer and trainer, as well as the founder and owner of EDS – Embroidery Design Studio. My services are addressed to both people and companies striving to achieve the highest quality during their adventure, which is embroidery. For my part, I want to give you my knowledge, which is a result of many years of experience in cooperation with companies from all over the world. Experience in working with various types of programs, machines and materials. Particularly, I would like to teach you how to play with an embroidery thread, which will allow you to turn work into your passion. I invite you to take part in a training of embroidery designing in my office (one day) or at the client's (two days).
ESA Embroidery Fonts
ESA fonts are made from scratch and with attention to follow the rules applied in computer embroidery.
Our experience, as designers creating embroidery designs for many years, helped us make a high quaility product dedicated to softwares like Wilcom (from ES2006 to the newest versions), Hatch and MBX Digitizer ( from 5,0 version ). These fonts are fully editable. This means we can (after installing in a programme) use them with a keyboard. We can change their arrangement, delete them or change their elements and make letters larger and smaller (within the allowed limits). We can also adjust their parameters to the material on which they will be used. Because of the fact that all our fonts have been prepared from scratch and without the use of conversion, their quality is incomparable to those offered by the producers of the standrd (built-in) fonts software. Many people and companies have already trusted our products. We also had the pleasure of preparing a special anniversary package for Wilcom company. All fonts we offer contain marks used in a polish and german alphabets. On a special request we prepare extended options. We also accept individual orders for selected fonts or those of unusual size.
Contact
e-mail: andrzej@eds-studio.com.pl
mobile: +48 509 299 544